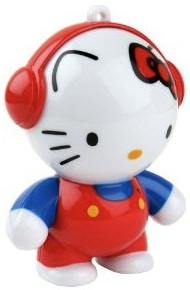 This Hello Kitty is only 3″ tall and wears some cool headphones. But that is not all what this product by Headphonies is.
No this Hello Kitty is much more. It is a portable speaker for you mp3 player. It is so portable that it has a key chain loop.
Of course it can easily be connected to your iPod and iPhone and the Hello Kitty speaker has a build in rechargeable battery so you can use it outdoor, in the car or where ever you want to listen to music.
Go have a closer look at this Headphonies Hello Kitty Portable Speaker.