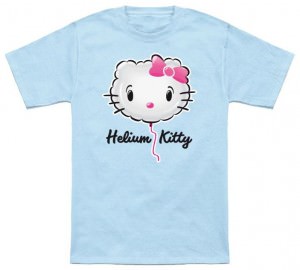 Basically it is like this, why get a Hello Kitty helium balloon when you know it is just going to loose air and shrivel up. If you really want a super cute balloon just get the image on a t-shirt, imagine the squeeky voice of Hello Kitty now.
This t-shirt features a unique image of what Hello Kitty will look like as a helium baloon along with a written saying of "Helium Kitty".
Available in a huge selection of sizes that range from Small to 6XL for men and women and it's  made from 100% cotton to give you a very durable long lasting shirt aswell as super comfortable and soft, also check out the many different colors to choose from.
Get a closer look at the Hello Kitty Helium Kitty T-Shirt.