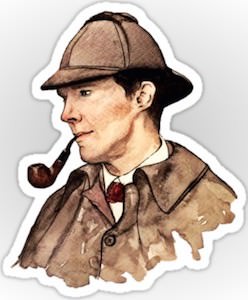 How would the current Sherlock have looked if he would have lived in the Victorian era?
Just like the classic "original" Sherlock Holmes I guess.
And now there is a sticker that puts Benedict Cumberbatch in a classic Sherlock Holmes outfit complete with pipe and hat.
This is a die cut sticker made to be perfect for many surfaces. Laptop, door, binder or maybe you car it all can use this Sherlock sticker.
The Sherlock Holmes sticker is made from waterproof vinyl and can last up to 18 months outside. And one big plus of this sticker is that you can remove it easily as well if you  want.
Come and start decorating with this Sherlock Sticker.