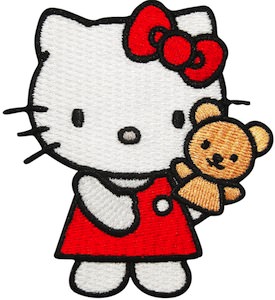 This Hello Kitty clothing patch can make almost anything into Hello Kitty merchandise.
The patch shows Hello Kitty complete with a red bow while wearing a red dress and holding a hand puppet in her hand.
A patch like this will be great for fixing clothes but it is also great for just decorating.
Just imagine a Hello Kitty jacket, handbag, hat, shirt, pants or backpack and those are just a couple of things popping up in my mind right now.
The patch is an Iron On patch so now sowing is needed but of course you can to make it extra secure. You can put this Hell Kitty patch on almost any fabric so why don't you try.
The Hello Kitty clothing patch is 3.25 inch high and about 3 inch wide.
Start decorating with this Hello Kitty And Puppet clothing Patch.