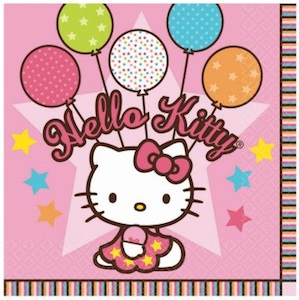 A Hello Kitty themed birthday party would not be complete if the Hello Kitty napkins where missing.
So no worries here are the Hello Kitty party napkins.
These lunch napkins comes in a pack of 16 and are 2 ply and are 6 1/2 x 6 1/2 inch big.
Even if you are nog having all Hello Kitty themed party wears then still the napkins are a must have item.
Come check out these fun Hello Kitty Party Napkins.