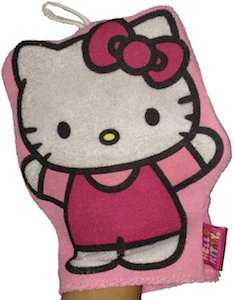 Do you have trouble getting your kids in the bath? Do they love Hello Kitty?
Well this fun Hello Kitty bath mitt might help convince them to get in the bath a little faster.
This pink bath mitt with a picture of Hello Kitty on the front will fit right over the hand. They will have a super fun time getting clean.
So if your children always give you a hard time about bath time. This bath mitt will make it exciting for them and Hello Kitty might be the trick to getting them in the bath.
Make your kids bath a fun one with this Hello Kitty Bath Mitt.