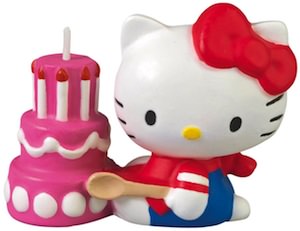 This Hello Kitty birthday canlde is so cute.
It shows a big pink birthday cake and an even bigger Hello Kitty sitting next to it with a spoon ready to eat the cake.
And yes this is just a candle.
Wilton makes this handpainted candle of Hello Kitty and Wilton is famous for all their quality bake wear.
If you want to have an Hello Kitty birthday cake then this is the Candle to get.
Time for a party with this Hello Kitty Birthday Cake Candle.