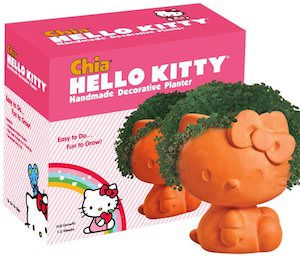 Do your children love Hello Kitty?
If they do this cute Hello Kitty chia pet is the perfect fun activity for them to try.
The hand made pottery planter is in the shape of Hello Kitty herself. It has chia seeds packets for three plantings and comes with a convenient plastic drip tray.
This Hello Kitty chia pet is easy and fun thing to do with your kids. It is fully grown in two to three weeks.
So if your planning your kids birthday party you can make it a party game or if you just want to have a fun day with you and your child get one of these Hello Kitty Chia Pets.