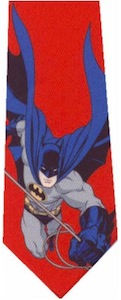 Sometimes you have to wear a necktie but that doesn't mean that it has to be a boring one.
If you normally always wear a Batman t-shirt but now have to suit up then why not wear a fun Batman necktie on the suit.
This Batman necktie is red and show Batman in action right on the tie.
Colors of Batman and the red of the necktie really work together to make you superhero look even better.
Now you can be the centre of attention by simply wearing this Batman necktie.
So why wait order your own Batman Necktie.