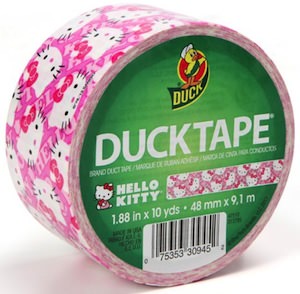 We all know what Duck Tape can do as MacGyver showed us many times on TV. Maybe he didn't use a pink tape but still he loved his Duck Tape.
But now we have some nice and girly pink Duck Tape and this is not just pink tape no this is Hello Kitty Duck Tape.
Every piece on the roll has Hello Kitty all over it.
The tape is pink with with Hello Kitty writen over the whole thing and on top of that there is Hello Kitty's face on it over and over again.
This pink Hello Kitty Duck Tape is 1.88 inch wide and 10 yards long so enough tape to do a lot of fixing and decorating.
Come and have a closer look at the design of this Hello Kitty Pink Duck Tape.