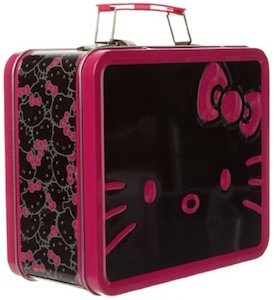 If your daughter loves Hello Kitty. She will love to take her lunch to school in this cool Hello Kitty Face Lunch Box.
Made from 100% metal and the handle length is 5.5 inches. The inside dimensions are 4 x 8 x 7 inches, 11.2 ounces in weight.
It is a black lunch box with a pink outline all around the front and back. It has multiple Hello Kitty heads all over the sides. Also on the front is a pink bow in the right hand corner with Hello Kitty's eyes, nose and whiskers in the middle.
Make your little girl happy and send her off to school with her own cute Hello Kitty Lunch Box.