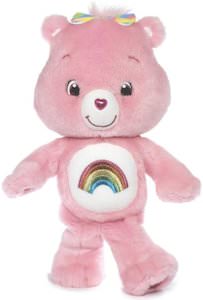 Bring cheer and celebrate the 25 anniversary of the Care Bears.
If your kids are afraid of the dark.  The new edition of the Care Bear Plush will be perfect to make them feel safe at night.
They have a brand new look and glow all over. Even the symbol on the tummy lights up.
Cheer Bear is a pink soft cuddly plush with the symbol of a rainbow on the tummy and even has a rainbow bow on the head.
So cheer your little one up at bedtime and make them happy with their own Glow Cheer Care Bear Plush.