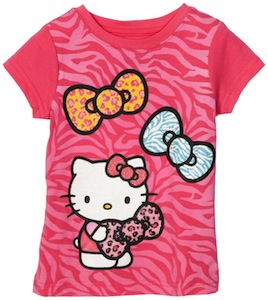 Kids love Hello Kitty and now they can have a fun t-shirt with Hello Kitty on it.
This t-shirt is pink and has a kind of animal print on the background and on the foreground you see Hello Kitty holding a big bow and more bows around her.
You can get this Hello Kitty t-shirt in sizes 4 to 6x.
Come check out the glittery bows of this Hello Kitty Pink Girls T-Shirt.