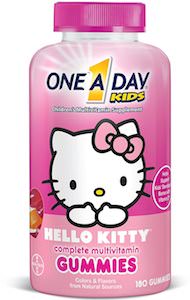 If you want your child to eat their multivitamins then you should check out these Hello Kitty kids vitamins.
These gummy vitamins that look like Hello Kitty and they look fun and that will make kids really want them.
The Hello Kitty vitamins are made by One A Day and have a lot of important vitamins in it which will help your child to be healthy but of course, this does not mean that they don't have to eat healthy food anymore.
Now anyone that like Hello Kitty and gummies should check out these fun multivitamins as they will impress you.
You may also like: