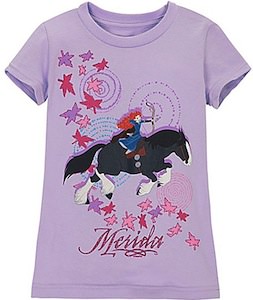 Kids deserve the best and that is why this t-shirt is made from 100% organic cotton and has the coolest print on it.
On the pink t-shirt you see Merida and her horse Angus ready for their quest.
Besides these two Brave character you see fun pink, red and purple leaves and the name of the main character of the Brave movie "Merida".
The print on this t-shirt even has glitters on it to make it even more fun for the kids.
You can get this Brave t-shirt in sizes 5/6, 7/8 and 10/12.
If you kids like Brave then they will love this Brave Merida And Angus T-Shirt.