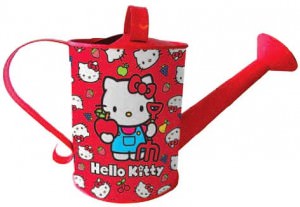 Spring is here, you will be spending lots of time outdoors looking after your garden, and your little one would love to help you water the plants with this child's Hello Kitty watering can.
This cute red watering can features a picture of Hello Kitty with her traditional red bow on her left ear. She is wearing blue overalls and is holding a red pitchfork and a big red apple so that her mama can make her an apple pie. The watering can also has the faces of Hello Kitty all over the can and the words "Hello Kitty" below her image.
This Hello Kitty watering can is 5 ½" tall x 4 ¾ "wide and holds close to 50 oz. of water.
Teach your little one how to look after the garden with this Hello Kitty Watering Can.