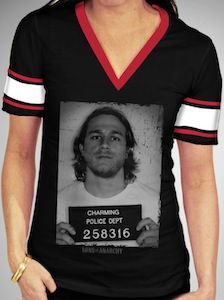 This is a fitted hockey jersey style t-shirt for women who like Sons Of Anarchy.
It's a black shirt with white and red stripes on the sleeves and a red border around the v-neck. But that is not all, on this shirt you can see a mugshot photo of Jax Teller and he is holding a Charming police department sign.
And this women's Sons Of Anarchy t-shirt comes in sizes Small – Extra Large and who doesn't want a shirt with a picture of Jax.
We all know what can happened when the SAMCRO boys get to jail and maybe it's better if that doesn't happen again.
So lets just remember Jax in jail throughout this Sons Of Anarchy Jax Teller Mugshot T-Shirt.