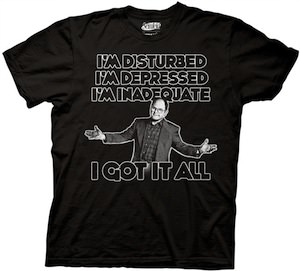 This is the funniest Seinfeld t-shirt I ever seen.
You see a picture of George Constanza and above that the text I'm disturbed, I'm Depressed, I'm inadequate" and then below the picture the text "I got it all".
You have to admit this is something that fits so well with George Constanza and I am sure that his friends Jerry and Elaine will make fun of him forever.
So if you are a real Seinfeld fan then come and check out this Seinfeld I Got It All T-Shirt.