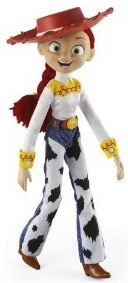 Here is cowgirl Jessie the friend of Woody in the movie Toy Story 3. This 11.5″ tall action figure is great to play with. You can move Jessie's arms and legs so that you can pose it the way you want.
Jessie loves to play and I am sure that if you have a Woody and a Buzz you will make it even better with this version of Jessie.
Go check out this Toy Story 3 Jessie Fashion Doll.