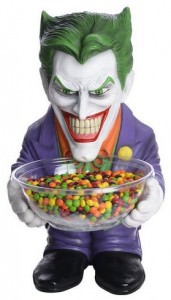 It doesn't matter what time of year it is, you always can use a candy bowl holder, but which one do you choose? There are so many candy bowls out there. Why not change it up a little with a conversation piece and Batman's arch enemy The Joker.
The green hair, red lips, purple suit and the grin of the century will hold your candy like no one else. DC Comics, The Joker, has never looked finer.
The Joker Candy Bowl Holder stands 20″ tall so it's not your every day candy bowl holder. It is a fantastic candy bowl holder, it even comes with the bowl, but sadly, not the candy.
The smile is contagious, or is that just the candy in The Joker Candy Bowl Holder.