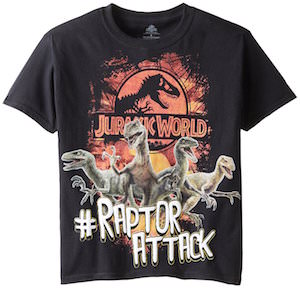 Kids are gone love this Jurassic World t-shirt as it shows so many dinosaurs on it.
This black officially licensed t-shirt shows in the background in a red glow the logo of Jurassic World and in the front a squad of Raptors and below that the text "#Raptor Attack" and yes of course it has a hasty before Raptor so that social media knows quickly about this dino attack.
Made from 100% cotton and it is available in many big boys sizes.
Kids love dinosaurs so why not make them happy and get them this special looking Jurassic World #Raptor Attack T-Shirt.