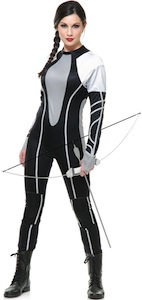 Now you can look just like Katniss Everdeen does when she goes for her second Hunger Games.
This jumpsuit looks exactly like the one she wears in the Catching Fire movie and now you can look like that for Halloween or maybe just for fun.
This Hunger Games Costume includes the Jumpsuit but not the boots or bow.
The Katniss costume is made from spandex and mesh so that you can comfortably movie around while you try to kill the other tributes.
Of course this Hunger Games Halloween costume is available in a wide range of sizes so that it will fit you perfectly.
Get ready for Halloween by ordering this The Hunger Games Catching Fire Katniss Everdeen Costume.