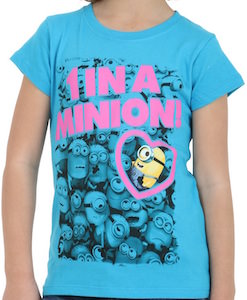 Young and old we all love Minions and maybe you have a favorite Minion and if you do then it's one in a million.
On this kids t-shirt you can see a black a white picture of a whole big group on Minions but one is the usual yellow and around him you can see a pink heart and above it the text "1 in a Minion!" as that of course is your girls favorite Minion.
This Minion t-shirt is light blue with pink words making it just great for many kids.
If you daughter love Minions then why not surprise her with this Kids One In A Minion T-Shirt.