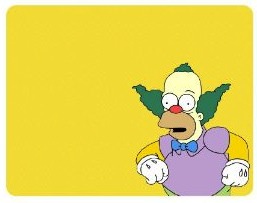 Bart and List Simpson love to watch Krusty the Clown and if you do to then check out this mousepad.
This mousepad is nice and yellow and shows a suprised looking Krusty the Clown.
Maybe Krusty doesn't know what that thing is that is moving above his head.
Don't worry Krusty it is just a computer mouse.
Make you desk more fun with this Krusty the Clown mousepad and that means that you have more Simpsons fun to.
Come and get your own Krusty The Clown Mousepad.