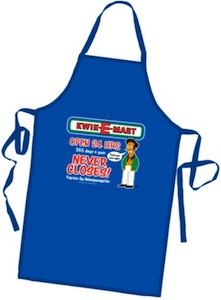 What do you think Apu wears when he is doing those dirty jobs at the Kwik-E-Mart?
Yes an Kwik-E-Mart apron.
And now you can have a Kwik-E-Mart apron to.
This blue fabric apron shows the Kwik-E-Mart logo and a picture of Apu and the text "Open 24 Hrs never Closes!".
You have to admit that this apron would be a hit at your next BBQ party.
A true Simpsons fan already owns this apron so if you don't then maybe you aren't a true fan or just a bit lazy.
Don't wait any longer it's time to order your The Simpsons Kwik-E-Mart Apron.