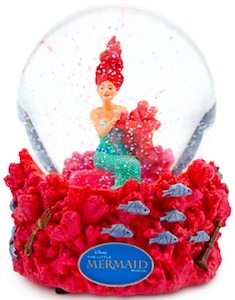 After The Littler Mermaid movie there now is a broadway musical of it and that is where this snow globe is based on.
The Little Mermaid snow globe is made from resin and glass and when you shake it glitter will start to float around Ariel.
And this snow globe has music in it to. Just wind it up and it will play "Part of your world".
Of course this snow globe is for any one who like Princess Ariel if it's from the musical or the movie you will love it when you see Ariel sitting in the little globe.
Come and have a closer and better look at this The Little Mermaid Ariel Snow Globe.