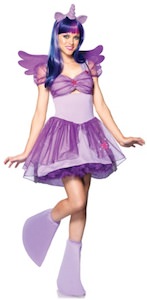 Hey ladies are you looking for that perfect sexy costume for the Halloween party your invited to?
Well, look no further because this My Little Pony Twilight Sparkle costume will transform you into that sexy pony.
This amazing Twilight Sparkle women's costume includes a cute purple mini dress with a glitter tulle tutu over the skirt, a curled wig tail and purple wings. It also comes with a purple highlighted long haired wig, a headband with ears and an attached unicorn horn, and purple hoof leg warmers.
The adorable Twilight Sparkle costume is available in size small, medium and large.
You will sparkle at the party when you show up in this cute sexy My Little Pony Twilight Sparkle Costume.