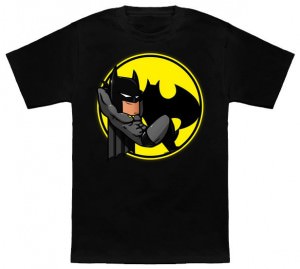 DC Comics Batman is always running around Gotham City protecting them from the evils of the world. But even Batman needs some down time. Help him relax by letting him lounging around.
This t-shirt has many background colors to choose from to make it yours. The main focus though is the great graphic in the middle of the front. It is a little lounging Batman with a smirk on his face. He is leaning on his famous black and yellow bat symbol. You relax Batman, you have had a hard night.
This t-shirt is made of 6.1 oz 100% cotton. It comes in sizes ranging from Small all the way up to a 6XL and is available in men and women's styles . Therefore, it makes a great gift for anyone or even for yourself. Don't worry it is pre-shrunk, so the size will remain intact.
Hang out in your Lounging Around Batman T-Shirt.