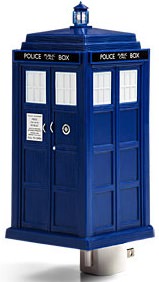 The Doctor would love to park a small version of his Tardis in your home.
But don't worry it will not take up much space and will help you in the dark.
This Tardis is a night light and that means that wandering through you home at night becomes less scary with the Tardis lighting you way.
And this night light has a build in 7watt bulb that is easy to replace.
So let Doctor Who bring light to you life with this Doctor Who Tardis Night Light.