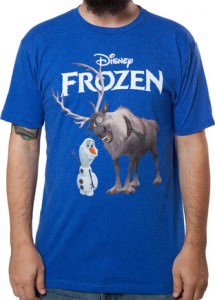 The best comical combination in recent years is Olaf and Sven from the hit Disney movie Frozen.
This blue short-sleeved men's t-shirt featured the images of Sven, the reindeer and Olaf, the snowman  both showing their whimsical and childish sides. Olaf is standing beside Sven looking innocent and goofy, with his big toothy grin and carrot nose and Sven, dressed in his red harness is grinning at Olaf and looks like he is ready to bite off his carrot nose. However, we know that even if Sven gets the nose, he will spit it back out.
This 60% cotton, 40% polyester screen printed t-shirt comes in men's sizes S to 2XL and has the words "Disney FROZEN" on the front above the characters.
Show your own playful side with this Men's Olaf and Sven Frozen T-shirt.