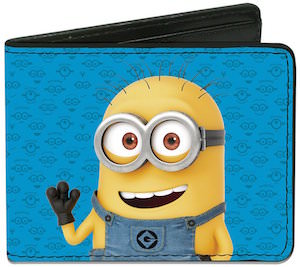 Kids and adults love Minions and we all started to love them the first time we noticed them in the Despicable Me movie but now they are all part of everyday life so why not get a Minion wallet.
I was told this is a kids wallet but I don't see why an adult can't carry it.
On the inside the wallet is black and has room for money, cards and ID and the outside is blue with a background of fun Minion expressions and on top of that you find Minion Jerry on both sides waving at you and each waving Minion is different so your wallet shows two different Jerry's.
Stop using that boring wallet and go have fun shopping with this Minion Jerry Wallet.