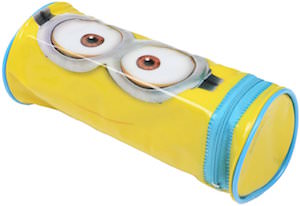 At school, work or at your desk at home you can use a nice pencil case to keep all your pens and pencils neatly organized in one place.
Now there is this fun Minion pencil case that is yellow of course and has blue edges and a zipper.
This barrel shaped pencil case is great to have and easy to store in your back to school backpack.
Theres are so many things you can store in your fun pencil case and as it has the face of a Minion on it people are gone smile at it to.
Make finding pens and pencils easy when you store them in this Minion Pencil Case.