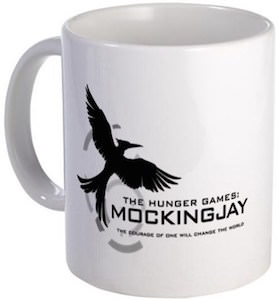 This white mug based on The Hunger Games shows a nice picture of the Mockingjay but with flapping wings. And besides the picture it also says "The Hunger Games: Mockingjay The Courage of one will change the world".
And of course that slogan is so true and should be shown to the world so that we all can be hero's just like Katniss is in The Hunger Games.
The white 11oz mug is dishwasher and microwave safe and shows the art on both sides of the mug.
Take a mug like this to work of where ever you go so that you can change the world by not using so many paper cups and that is a nice start.
Hunger Games fans come check out this The Hunger Games Courage Mug.