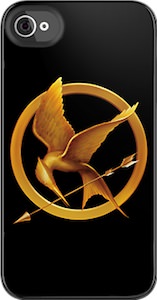 The Hunger Games are hot and after the book now the movie is gone make it the popular item of the year.
So maybe now is the time to let Katniss Everdeen help you protect your iPhone or iPod Touch.
Maybe you got a new iPhone 4s and now you are worried that it get scratched or dented that would be the right time to start looking for an amazing case to protect it and to make your phone even look better.
And yes the kids in school like to play with your iPod Touch and that means that with the Mockinjay on it your iPod will be the hottest one in school.
This case of course is the item to have for any Hunger Games fan.
This Hunger Games Mockingjay case comes in versions for the iPhone 4s, 4 3gs and 3g and for the iPod Touch 4th generation.
A nice black background with on that an almost 3D picture of a mockingjay of course in gold just like the pin look that Katniss wears.
Don't hesitate just order your The Hunger Games Mockingjay Case For iPhone and iPod Touch.