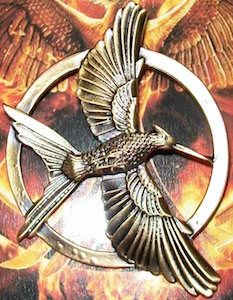 We seen Mockingjay pins in the past but now there is the one made specially for The Hunger Games Mockingjay party 1 movie.
No more arrows just a bird spreading it's wings ready to fight that capital.
This gold colored metal Hunger Games pin is about 1 7/8 on an inch in diameter and that is the perfect size for on a shirt, jacket or you bag.
If you are a true fan of The Hunger Games then you know you need this new pin and pin it next to all your other Mockingjay's.
So lets get ready for the fight agains the capital and wear this new Hunger Games Mockingjay Part 1 Pin.