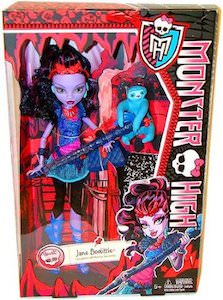 There is Jane Boolittle one of the newer members of Monster High.
Jane looks like a fun character and this doll lets you play out many fun monster stories.
And Jane of course brought her pet sloth Needles as she is more friendly to animals compared to humans.
If you are a Monster High collector then you know how much fun these dolls are and this new addition will be a hit in your collection.
It makes me wonder if those doll get to life at night and have little Monster high parties.
Add a new doll to your collection and let it be this Monster High Jane Boolittle Doll.