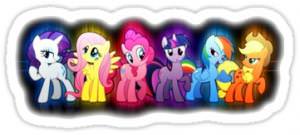 Friendship is Magic and that is why you will notice this sticker radiating with magic, you have six friends that are always there for each other.
Find the main six ponies from the My Little Pony series Friendship is Magic, Rarity, Fluttershy, Pinkie Pie, Twilight Sparkle, Rainbow Dash and Apple Jack all standing in a fun pose side by side with their main color surrounding each pony.
Made from a very durable and waterproof vinyl sticker will last a long time and are printed to best fit inside a 3" x 4" window, including a 3mm white padding around the edge.
Take a look at the My Little Pony Friendship is Magic Mane Six Sticker Decal.
You may also like: