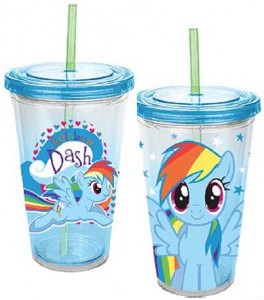 Do you like to carry a cold beverage with you but are worried about spilling it?
This cute light blue acrylic cup with pictures of Rainbow Dash from the My Little Pony Show will hold 18 ounces of liquid safely for you whether you are walking or in the car. It is 6 ¼ "tall and has a straw and screw top lid.
You can see the full picture of Magic Rainbow Dash with her rainbow mane and tail on one side and on the other side you can see her leaping over her cloud house in the sky with the word Dash above.
So no matter what the weather is use this My Little Pony Travel Cup.