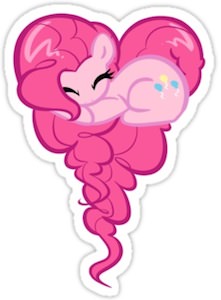 My Little Pony fans will love this sticker of Pinkie Pie.
The sticker shows a sleeping Pinkie and her hair form a heart shape so it becomes an heart shaped Pinkie Pie sticker.
And to make this even better I will tell you that this is a die cut sticker so the sticker is cut in the shape of the picture.
You can put Pinkie on your books, fridge, wall, mirror, laptop or even your car as the vinyl sticker is weather proof for up to 18 months.
So if Pinkie Pie is in your heart then check out this My Little Pony Pinkie Pie Heart Shaped Sticker.