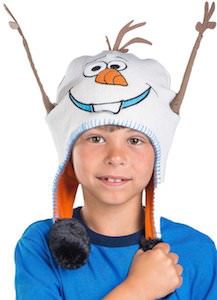 If you know some kids that like Olaf the snowman from the Disney movie Frozen then you can make them really happy with this fun winter hat.
This beanie hat is a Flipeez hat and that makes it extra fun.
The beanie hat is white and has an orange lining and on the white it has Olaf's face and some of his "hair" sticking out on the top.
And yes he has stick arms that hang on the side until you press the secret air bulb because then the arms will stick up. Yes this Olaf hat is fun to play with and keeps the head warm at the same time.
Come take a closer look at this Frozen Olaf Winter Hat.