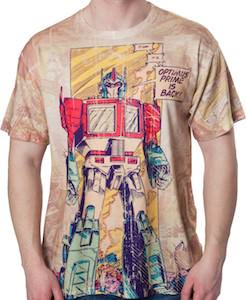 This t-shirt is a sublimation t-shirt and that means that the design is fully covering the front and back of this Transformers t-shirt and that includes the sleeves.
On the background you can see a Transformers comic and on the back the t-shirt has a big Transformers logo and on the front you can find Optimus Prime and he says "Optimus Prime Is Back!" and that of course is good for all the Autobot's.
You can get this Optimus Prime t-shirt in sizes Small – 3XL and all look as awesome as the picture.
So if you like comics and Transformers then come check out this Transformers Optimus Prime Comic T-Shirt.