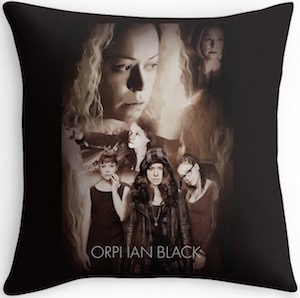 I really like the TV series Orphan Black and if you do to then you may like this amazing looking Orphan Black throw pillow.
The pillow is black but also shows a picture of the girls. Helena, Beth, Sarah, Cosima, Rachel and Alison all can be found on this pillow and is completed with the words "Orphan Black" on it.
You can get this Orphan Black pillow in different sizes to make it perfect for a chair, couch or maybe even the bed. And if you don't want a whole pillow then you could choose just to get it as an pillow case.
If you are an Orphan Black fan with a need of a new pillow then you have to check out this Orphan Black The Clones Throw Pillow.