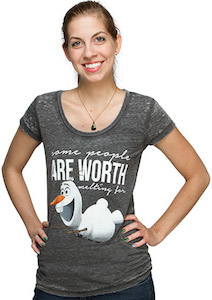 Frozen fans of course know all about Olaf and now there is a fun women's t-shirt.
On this grey t-shirt you can see Olaf making a dive and around it there is text that says "Some People Are Worth Melting For".
A t-shirt like this is just fun and that is what life needs so why not bring a little bit of Olaf fun to your life.
This Frozen t-shirt comes in women's sizes Small – XLarge.
And by wearing this t-shirt you can get the message across that you are worth melting for.
Don't wait just come and get your Frozen Olaf Some People Are Worth Melting For T-Shirt.