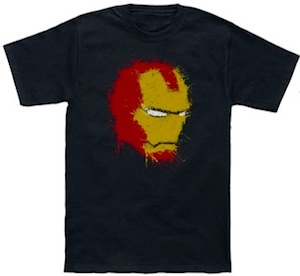 A black t-shirt with on it the face of Iron Man.
Sure Iron Man's face can be found on this t-shirt but it's not just a picture of it's face it looks like it is made from paint splatters. The print seem to have a rough look and that makes it even more appealing.
Now you can walk around town with a shirt with paint splatters on it and yes they look like a superhero to.
This Iron Man t-shirt comes in a men and women's fit and is available in a wide selection of sizes from Small all the way to 6XL. And this t-shirt is made from soft preshrunk cotton.
Come check out this Marvel Paint Splatter Iron Man T-Shirt.