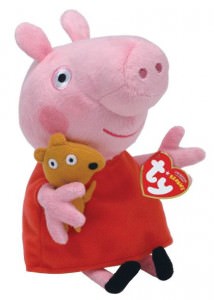 When Peppa Pig is not playing with her brother George Pig you can see her carrying around Little Bear the stuffed animal she loves.
This is a plush doll that looks like the fun animated Peppa Pig wearing her red dress, black slip on shoes and super cute face. Peppa Pig is holding her adorable stuffed animal toy Little bear.
Made to be soft and cuddly while also very high quality, it is made be TY and is part of the super popular Beanie Babies collection. Check out the rest of Peppa Pig's friends and collect them all.
Collect and enjoy the TY Beanie Babies Peppa Pig And Little Bear Plush.