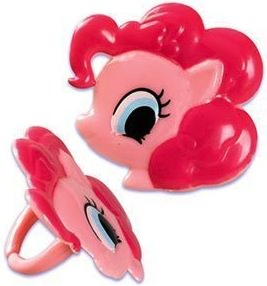 Now any cupcake can become a My Little Pony cupcake with these cute My Little Pony cupcake rings.
These cupcake rings come in a pack of 12 and all look like Pinkie Pie our favorite pony.
Besides being great for cupcakes these rings can of course be used as party favors to because they are fun rings for the kids to use.
You could even use them to decorate other thing like napkins.
So if you are planning a My Little Pony party then check out these My Little Pony Pinkie Pie Cupcake Rings.