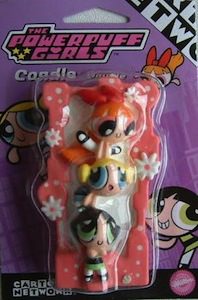 One item that can't be missing from the Powerpuff Girls birthday party is the birthday candle.
And this is a real Powerpuff Girl birthday candle. It has Buttercup, Blossom and Bubbles all on the candle and of course they are ready to party.
This Powerpuff Girls candle is made by Wilton and that means a quality product for any party.
And this birthday candle is about 3 1/2″ tall and 2″ wide.
Get ready for the birthday party and start with this The PowerPuff Girls Birthday Candle.