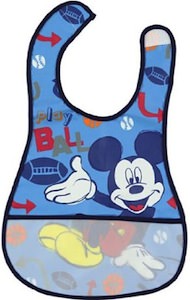 The little once like their food and specially to spit it out and play with it and for those days a baby bib is the perfect solution.
And this Mickey Mouse bib is of course perfect for your baby.
The velcro closesure on the back makes it easy to put on and take off and this bib even has a crumb catching pocket on the front so that the mess even better stays close to the baby.
On this bib you see Mickey  Mouse surrounded by sport balls and the words "Play Ball" and that make it great for your little boy.
Looking for a fun bib? Look no further come and get this Disney Mickey Mouse Play Ball Bib.