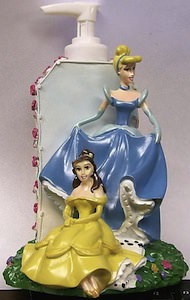 Make it more fun for kids to wash their hands!
And a boring soap dispenser is not gone help so change it to something fun.
If your kids like Disney Princesses then why not have a look at this 3D sculptured soap dispenser with Princess Belle and Princess Cinderella.
Now you kid will wash their hands like a real Disney Princess does.
And this Disney soap dispenser is made out of resin and that makes it strong and easy to clean.
Get your little Princess to wash their hands with the help of this Disney Princess Belle And Cinderella Soap Dispenser.