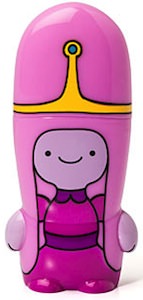 As Adventure Time fan you of course love the ruler of Candy Kingdom Princess Bubblegum.
And to show you love to her you need to own this USB  flash drive that looks just like her.
This Mimobot flash drive is shaped like Princess Bonnibel Bubblegum and offers 8GB of storage.
And of course a falsh drive as cool as this will only store cool files and when you get one it even comes with some special cool files already on their.
The Adventure Time flash drive has behind the scene photo's and video's on it.
Now is the time to show the world that you like Candy Kingdom by getting this Adventure Time Princess Bubblegum USB Flash Drive.